We all love summer. But if you suffer from symptoms of varicose veins, the heat can be a hazard to your health. Don't let summer keep you indoors. Use our tips to beat the heat.
It's the time of year to go to the beach, hike, or simply enjoy relaxing on your deck.  Throughout the season, your first concern may be the sun's effect on your skin.
But did you know how seriously the summer heat affects your veins? From swelling to discomfort, the heat can wind up being a real inconvenience. 
Summertime naturally leads to more time spent outdoors. The combination of outdoor activity and rising temperature means more pronounced vein conditions.
In the heat, veins naturally dilate for better blood flow. However, when veins swell it can cause issues.
Dilated veins mean your body must fight gravity harder to circulate blood back up to the heart. This added stress can lead to weary veins.
Often, this results in damaged veins and the accumulation of blood in the lower legs. This is how varicose veins can develop and where added discomfort and pain begin. It is also the precursor for a more serious issue called Chronic Venous Insufficiency.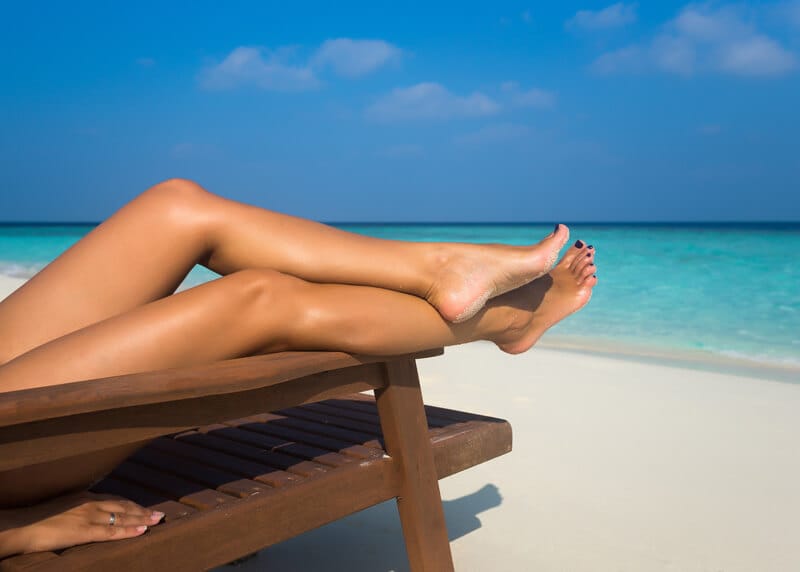 There are over 24 million people in the United States that suffer from varicose veins. But the people most at risk are females over fifty years of age.
Women who have had multiple pregnancies are also at a higher risk because of additional stressed placed on veins.
Hormonal changes also affect the onset of venous disease. Women in menopause should be particularly careful during the warmer months.
Although it may seem like varicose veins is a disease that targets women, it's a guy thing too. In fact, nearly 45% of people who suffer from varicose veins are men.
Certain occupations are also more at risk for varicose veins than others. Jobs that include standing or sitting for long periods of time are prone to vein issues.
People who suffer from varicose veins are often affected physically and mentally. Constant pain, even if slight, can greatly impact your attitude and mental state.
Prevention and Preparation
The appearance of varicose veins and unwanted pain can take its toll on anyone. But trying to prevent vein conditions and slow existing ones is a step in the right direction.
Prevention of vein conditions in the summer is similar to prevention during the rest of the year. But it's important to remember that conditions can easily be exacerbated in hot and humid weather.
By following these guidelines, you should make it through the summer months without added discomfort:
Maintaining a healthy weight, activity, and eating properly are all important for vein health.
Extra weight can put a lot of stress on your body and particularly your legs. Staying in good physical condition means not only a healthy diet but also regular moderate exercising.  The combination of movement and eating right may also help reduce excess weight.
Eating foods that improve circulation is another great way to protect your veins.
And believe it or not, standing up and walking around for only a few minutes really does help!
Drink.  Drink.  Drink. Getting plenty of fluids to stay hydrated is one of the most important things you can do to remain healthy in the summer heat.
Do you know the recommended amount to drink?  Divide your weight in pounds by 2. The answer is the number of ounces you should be drinking daily.
For example, a 150-pound woman should drink 75 ounces of water per day. Though water is the best for hydration, consider supplementing with herbal teas, electrolyte drinks, or fruit-infused water for variety. Just make sure it doesn't include added sugar or caffeine.
Hydration is key to blood flow. If you aren't drinking enough water, you may want to start bringing some with you wherever you go.
Remember, by the time you are thirsty, you are already dehydrated.
Wearing loose pants allows the blood to flow properly with no added resistance.
Try wearing loose-fitting pants if you are going to be out for an extended time. Lightweight, natural fabrics will still allow you to be cool, and can cover your skin from the sun's direct rays.
When traveling in a car, plane, or even sitting at work, giving yourself the appropriate legroom helps with circulation.
Extended plane or automobile trips can result in lengthy periods of sitting in one position. It's important during these prolonged periods of inactivity to use specific exercises while-on the go.
Get up from your seat on the plane and walk up and down the aisle. Pull into rest areas so that you can get out of the car and move around. Your veins will thank you.
Wear Compression Socks or Stockings
Compression socks and stockings use pressure to help push blood through your lower legs. They are an amazing way to help counter the effects of gravity. It's really important to wear them if you sit or stand for prolonged periods of time.
Wearing compression stockings or leggings can help your legs feel better and assist your veins in working at an optimal level.
Compression garments are readily available at drug stores, sporting goods stores, and online. They are more comfortable than in the past and are designed to breathe better.
Wear them while working out, being active, or most importantly while traveling.
Gravity is the main cause of varicose veins, but it can also be a factor that prevents them. By elevating your legs, you are causing the blood to flow to other parts of your body.
Even if there is no place to put your feet up on that plane or in the car, elevate your legs whenever possible. At the beach, try putting your feet up on your bag, a towel, or even a beach ball.
If you are at the park, don't be afraid to use a bench to elevate your legs.  Even a slight elevation will help get your blood pumping back towards your heart and out of your legs.
Beat the heat and cool off. Try to sit in the shade. Wear a hat. Take a dip in the pool. Sip on a cool drink. Go inside occasionally to cool yourself down. And always, always, always wear sunscreen!
Exercising and other activities are best done early in the morning or later in the evening so that the midday sun isn't bearing down on you.
Summer is a great time of year to enjoy the outdoors. Staying active, traveling, going on vacation, and soaking up the sun are all ways to enjoy the season.
However, over-exposure to hot temperatures for extended periods of time can cause pain and discomfort for those who suffer from varicose veins.
In addition, your lifestyle, including an unhealthy diet, inactivity, or not staying sufficiently hydrated, can cause pain and swelling. By employing compression, heat management, activity breaks, and hydration you can reduce your symptoms.
But if you would like to eliminate discomfort quickly, make an appointment with a vein specialist about medical treatment options.
Suffering from venous issues doesn't mean you have to forgo the outdoors this summer. Keeping a healthy weight and limiting strenuous activity in the heat are important.
Knowledge and preparation will allow you to enjoy the outdoors while minimizing discomfort.
The New Jersey Vein and Vascular Center is here to help, please contact us today to learn more.
This blog has been updated and republished in August 2021.