The New Jersey Vein and Vascular Center
For Treatment of Varicose Vein Disease and Venous Insufficiency
NEW JERSEY'S LEADING VEIN CENTER… WITH A HIGHER STANDARD OF PATIENT CARE
Early Detection is Key to Preventing Damage Caused by Vein and Vascular Disease
State-of-the-Art Vein Center
Our state-of-the-art New Jersey Vein and Vascular Center in Morris County is committed to personalized patient care and good vein health.
Medical Director, Dr. Stuart Miller, has performed thousands of procedures during his medical career.  Trained and certified in several medical specialties over a ten year period after medical school, he possesses an unparalleled combination of training and experience.
Dr. Miller has trained other vein specialists, is a consultant to medical device companies, and holds over 16 patents for medical devices.
At NJVVC we offer the world's most advanced methods in medical diagnostic technologies essential to minimizing false positives or false negatives, allowing us to create a specialized and precise treatment plan for each patient.
Our vein center maintains the highest standards and advances in the field of vein and vascular care.
Diagnosis & Treatment of Vein Disease
Our goal is to diagnose and treat the underlying causes of various vein conditions. Unfortunately, most patients, as well as their physicians are often unaware that their symptoms are secondary to varicose vein disease.
It is also a belief among physicians and patients that varicose vein treatment involves a stripping procedure or that no treatment options are available. This is terribly wrong.
We often see patients who have already received treatment elsewhere for vein conditions. They find themselves with recurring symptoms that are just as bad or worse than their original problem.
At NJVVC, we pride ourselves on not only expert diagnosis, but setting up a personalized treatment plan for every patient.
By following an  individualized treatment plan, patients receive superior care, with better results and fewer complications.
Dr. Miller injects a sclerosing agent directly into a visually apparent, pathologic vein. Watch how the medicine displaces the blood and seals the vein, thereby resulting in its disappearance. See More Videos
Before & After Vein Treatment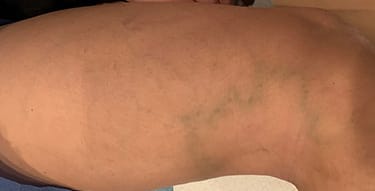 Essential Vein and Vascular Health
Your health and well-being rely entirely on the health of your veins and arteries. About six quarts of blood are circulated three times every minute throughout your body, carrying essential oxygen and nutrients to your vital organs, muscles, and every living cell in your body.
Your arteries carry the blood away from your heart and the veins (your venous system) return the blood back to your heart. When this pattern of normal blood flow is altered, the result is often manifested by symptoms of varicose vein  disease. These symptoms include pain, aching, cramping, heaviness, fatigue, itching, warmth, burning, and restless legs.
You may also notice spider veins, prominent, bulging veins, and skin discoloration.
The New Jersey Vein and Vascular Center
390 Route 10 West, North Building – Suite 102
Randolph, NJ 07869
In addition to the treatment of vein conditions, NJVVC also provides professional skincare treatments and products.
Xeomin Botulinum Toxin Treatments
Xeomin Botulinum toxin treatments for anti-aging and preventing and softening the appearance of wrinkles.
We choose Xeomin over Botox and Dysport because it contains no complexing or added protein.
Xeomin is ideal for reducing forehead and frown lines, "II" lines between the eyebrows, and crow's feet.
Medical-grade chemical skin peels address a variety of skin concerns and give the skin a more radiant appearance.
Chemical peels improve unevenly pigmented or sun-damaged skin, treat acne, reduce acne scarring, or reduce the appearance of fine lines and wrinkles.
All peels offered at New Jersey Vein and Vascular Center are considered "medical grade" and can only be administered by a physician.
Our Goals for Every Patient
For Better Vein Health and a More Confident You
Free Vascular Screenings
Call Today to Schedule   (862) 251-7111 
OR Click to Contact the Office
 Early Detection is Key to Preventing Damage Caused by Vascular Disease
Dear Dr. Miller
From our initial consultation, I was impressed with you. A doctor who actually listens to his patients, very rare. Thank you for your kindness and professionalism. I can't thank you enough for making an uncomfortable situation enjoyable, as well as finally giving me legs that are pain free and good looking.
Deb
Dear Dr. Miller and Staff
I'd like to thank you for the excellent care and treatment I received at your office. My legs feel so much better!
Mabel E.
Dr. Stuart Miller & Staff
I see your commercial every so often on cable, I hear your voice, see your smiling face and I simply want to thank you. Over the last year, you and your staff have not only been helpful and caring, but always provided me with a peaceful experience. I'm truly thankful to you all for keeping my health in tip-top shape.
Renee.
Dr. Miller & Staff
Thank you so much for your kindness and attentiveness. I really enjoyed coming in and getting to know you over the last few weeks. I will be sure to refer as many patients as possible.
C.B.
Dear Dr. Miller
They say that where cardinals appear that angels are near. That is the way it is in your office. All of your staff have been angels to me. Please give my best to all of the cardinals in your office.
Tom L.
Dr. Miller & Staff
Thank you very much for the great work done on my leg. The leg looks and feels much better. I appreciated the professionalism of all of you.
Enjoy the gift card, stay well, and have a beautiful upcoming holiday season. I hope all of you will enjoy a nice lunch or dinner at the diner.
Sincerely, Jim D.
Dr. Miller and Staff
Thank you so much for all your kindness and attentiveness. I really enjoyed coming in and getting to know you over the last few weeks. I will be sure to refer as many patients as possible.
Sincerely, Cristina A
Want an Invitation to our next OPEN HOUSE?
Get on the Guest List – Click HERE TO REGISTER
See What Our Patients Say…
We follow CDC, as well as state and local guidelines, in order to keep our patients and staff as safe as possible. Appointments are scheduled to allow time in between patients to limit the number of people in the office at one time.