The New Jersey Vein and Vascular Center
For Treatment of Varicose Vein Disease and Venous Insufficiency
NEW JERSEY'S LEADING VEIN CENTER… WITH A HIGHER STANDARD OF PATIENT CARE
Early Detection is Key to Preventing Damage Caused by Vein and Vascular Disease
Free Vascular Screening – Call (862) 251-7111 or Request Online
NJVVC is Seeing Patients for Routine and Cosmetic Procedures
We follow the American Medical Association guidelines & CDC recommended procedures, taking every precaution to keep patients and staff as safe as possible. Appointments are scheduled to allow time in between patients to limit the number of people in the office at one time.
State-of-the-Art Vein Center
Our state-of-the-art New Jersey Vein and Vascular Center in Morris County is committed to personalized patient care and good vein health.
Vein specialist, Dr. Stuart Miller, a leader in clinical innovation with more than 15 medical device patents, is recognized as Diplomate of the American Board of Internal Medicine and the American Board of Radiology. We are now located in Randolph, NJ.
At NJVVC we offer the world's most advanced methods in medical diagnostic technologies essential to minimizing false positives or false negatives, allowing us to create a specialized and precise treatment plan for each patient.
Our vein center maintains the highest standards and advances in the field of vein and vascular care.
Diagnosis & Treatment of Vein Disease
Our goal is to diagnose and treat the underlying causes for various vein conditions. If you have varicose or spider veins, these conditions are often more than meets the eye.
Only proper diagnosis for vein disease can ensure durable treatment and a solution that will last for many years to come.
We often see patients who have already received treatment elsewhere for vein conditions. They find themselves with recurring symptoms that are just as bad or worse than their original problem.
This is often due to an incorrect diagnosis or an incomplete treatment plan. NJVVC's commitment to proper diagnosis and treatment of vein disease includes monitoring results to ensure lasting success and a healthier, happier patient.
Dr. Miller injects a sclerosing agent directly into a visually apparent, pathologic vein. Watch how the medicine displaces the blood and seals the vein, thereby resulting in its disappearance. See More Videos
Before & After Vein Treatment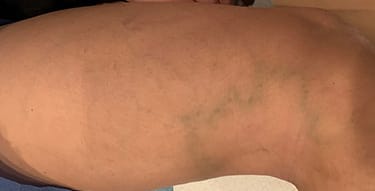 Essential Vein and Vascular Health
Your health and well-being rely entirely on the health of your veins and arteries. About six quarts of blood are circulated three times every minute throughout your body, carrying essential oxygen and nutrients to your vital organs, muscles, and every living cell in your body.
Your arteries carry the blood away from your heart and the veins (your venous system) return the blood back to your heart. When this pattern of normal blood flow is altered, the result is often manifested by varicose veins, spider veins, reticular veins…even restless leg syndrome.
The New Jersey Vein and Vascular Center
390 Route 10 West, North Building – Suite 102
Randolph, NJ 07869
In addition to the treatment of vein conditions, NJVVC also provides professional skincare treatments and products.
Xeomin Botulinum Toxin Treatments
Botulinum toxin treatments for anti-aging and preventing and softening the appearance of wrinkles. We choose Xeomin over Botox and Dysport because it contains no complexing or added protein.
Neocutis Skincare Solutions
Neocutis skincare solutions for anti-aging, redness, dryness, oxidative stress, and post-procedure skin needs. Exclusively dispensed through select physicians.
Medical-grade chemical skin peels to address a variety of skin concerns. Improve unevenly pigmented or sun-damaged skin, treat acne, reduce acne scarring, or reduce the appearance of fine lines and wrinkles.
SkinCeuticals advanced skincare products to address the entire spectrum of skin concerns. Backed by science and designed to prevent, protect, and correct.
Our Goals for Every Patient
For Better Vein Health and a More Confident You
Free Vascular Screenings
Call Today to Schedule     (862) 251-7111
OR Click to Contact the Office
 Early Detection is Key to Preventing Damage Caused by Vascular Disease
Want an Invitation to our next OPEN HOUSE?
Get on the Guest List – Click HERE TO REGISTER
See What Our Patients Say…