Ah, Autumn. Also known as Pumpkin Spice season. Every year around this time, pumpkin-flavored everything makes its annual appearance. Pumpkin spice lattes, pumpkin pie, pumpkin soup, even pumpkin chili hits the shelves of stores and restaurants.  
While you are likely familiar with all of the ways to eat this versatile veggie, did you know pumpkin also greatly benefits the skin?  
It Starts with Super Ingredients
From the seeds to the flesh, pumpkins are loaded with nutrients that are helpful for the skin. Since pumpkin has a small molecular structure, it can penetrate deep into the skin. These nutrients do everything from hydrating to repairing damage from the inside out. Some of the beneficial enzymes and vitamins in pumpkin include:
Alpha hydroxy acids
Vitamin A
Vitamin C
Beta-carotene
Magnesium
Zinc
Vitamin E
Omega-3 Fatty Acids
Awesome Anti-Aging Benefits
Pumpkins contain enzymes and alpha hydroxy acids that break down dead skin cells. By removing dead skin cells, normal cell regeneration speeds up. This has a smoothing and brightening effect, resulting in glowing skin.
Pumpkin enzymes are plentiful in antioxidant-rich vitamins A and C. These amazing ingredients refine and soothe the skin, reducing fine lines and wrinkles. 
A derivative of vitamin A, beta-carotene, boosts collagen production to help minimize wrinkles. Beta-carotene also helps to reverse UV damage and improve uneven skin pigmentation. So, if you have any dark spots or freckles, pumpkin is the superfood for you. 
Because of its high content of magnesium, zinc, and antioxidants, the pumpkin seed oil is especially useful in preventing the signs of aging. It promotes moisture retention and improves the skin's elasticity.  
Free radicals are skin-damaging molecules in our environment: light, smog, cigarette smoke, and fried foods – just to name a few. They speed up the aging process and may even be linked to cancer.
The vitamin C and beta-carotene in pumpkin works to combat free radicals. Both nutrients reverse UV damage and counteract free radical effects on the skin.
Using pumpkin to fight free radicals is easy. Make a simple pumpkin puree mask by spreading it onto your skin and allowing it to sit for 30 minutes.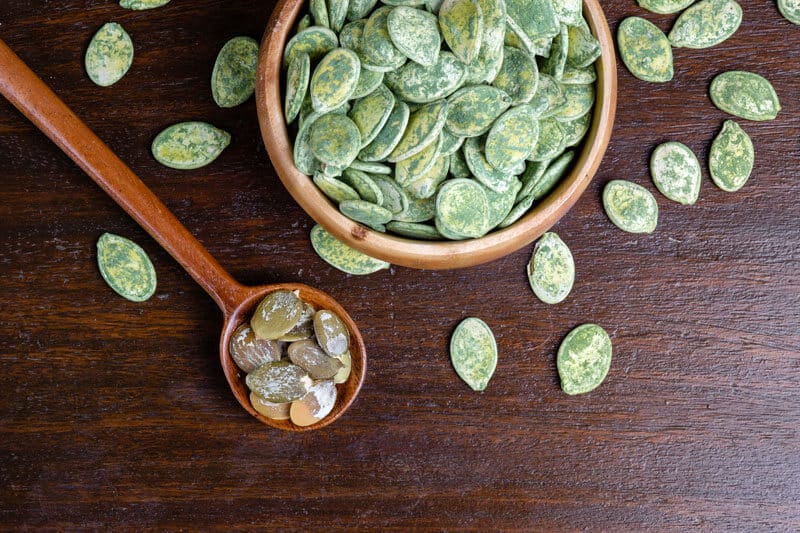 Pumpkins have powerful acne-fighting and oil regulating properties. Thanks to a potent combination of zinc, fatty acids, vitamins and minerals, you can ditch the zits.
Along with potassium and magnesium, zinc regulates oil production in the skin. This removes those obnoxious, overly oily and dry areas. Zinc also works in tandem with vitamin E to fight acne breakouts and improve skin tone. At the same time, anti-inflammatory vitamin A minimizes acne scarring.
Zinc, vitamin E, and omega 3- and 6- fatty acids are especially concentrated in pumpkin seeds. Simply eating these seeds is a great way to reap their many benefits. Roast pumpkin seeds at home (it's super easy!) and then enjoy them on their own or sprinkled into yogurt or trail mix.
Pumpkin can also help with hair loss or thinning. It is full of minerals like potassium and zinc which work to keep hair healthy and promote re-growth.
Pumpkin is also a good source of folate, a B vitamin that helps improve blood circulation which stimulates hair growth.
Pumpkin has the power to penetrate deep into skin to provide many benefits. It's full of the antioxidants, Vitamin A and Vitamin C, that both help to soften and soothe dry skin. Pumpkin also boosts collagen production which keeps skin from looking cracked and scaly.
If you want to protect your skin from becoming dry, pumpkin will do the trick. It's are rich in essential fatty acids and Vitamin E that nourish the skin and fight free radicals.
Bonus – Recipes Packed Full of Pumpkin
Ingredients
1/2 c. Warm Whole Milk (105ºF)
1/4 c. Honey, Divided
2 1/4 tsp. Active Dry Yeast
1/4 c. Salted Butter, Melted
1 can (15 Oz. Size) Canned Pumpkin (Not Pumpkin Pie Filling Or Mix)
1 Large Egg
1 1/2 tsp. Salt
5 c. All-purpose Flour, Or More As Needed
Directions
Place warm milk and 1 teaspoon of the honey in a small bowl. Sprinkle yeast on top. Allow to activate for 5 minutes.
Place milk mixture and remaining ingredients in the bowl of a stand mixer fitted with the paddle attachment. Mix on low speed until a shaggy dough forms. Switch to the dough hook. Knead on medium-low speed for 15 minutes. You can add more flour if dough is extremely wet, but dough should be quite sticky and won't clean the sides of the bowl completely.
Scrape dough into a large, generously greased bowl. Cover and allow to rise until doubled, about 1 1/2 to 2 hours.
Scoop dough out onto a piece of parchment paper or a greased work surface. Divide dough into 15 to 24 pieces, depending on how large of rolls you prefer. Using buttered hands, shape the pieces into balls by first pinching the edges into the center, then rolling the ball on your work surface to create surface tension. Place in a greased 13×9-inch pan or 10- to 12-inch cast iron skillet.
Cover with a tea towel and allow to rise until the rolls fill the pan, about 1 1/2 to 2 hours.
Half an hour before the rolls are done proofing, preheat oven to 375° F. Bake risen rolls for 25–30 minutes, or until golden and an instant read thermometer registers 200° F when inserted into the center of one of the rolls.
Allow to cool in the pan for 10 minutes. Invert onto a cooling rack to cool further. Serve warm or at room temperature (with butter, of course!).
Ingredients
4 slices thick-cut bacon, chopped
2 tablespoons unsalted butter
2 tablespoons all-purpose flour
1 clove garlic, minced
1 12-ounce bottle hard cider
½ cup pumpkin puree
1 teaspoon Dijon mustard
1 teaspoon Worcestershire sauce
Kosher salt
¼ teaspoon pumpkin pie spice
Pinch of cayenne pepper
4 ounces cream cheese, cut into pieces
3 cups shredded cheddar cheese
Chopped fresh chives, for topping
Cook the bacon in a medium skillet over medium heat, stirring occasionally, until browned and crisp, about 7 minutes. Transfer to a paper towel-lined plate to drain.
Melt the butter in a medium saucepan over medium heat. Whisk in the flour and garlic; cook, stirring, until incorporated, about 2 minutes. Whisk in the cider, pumpkin puree, mustard, Worcestershire sauce, 1/2 teaspoon salt, the pie spice and cayenne until smooth. Bring to a simmer and cook, stirring occasionally, until thickened, about 3 minutes.
Gradually whisk in the cream cheese and cheddar until melted and smooth, about 2 minutes. Transfer the dip to a bowl, top with the bacon and chives.
Serve with sliced apples or raisin-nut bread.
Pumpkins are much more than just recipe ingredients or decorations. They also have amazing skincare benefits. Reversing the signs of aging, fighting acne, and improving skin texture are just some of the powers pumpkins hold. This October, before tossing your jack-o-lantern, consider using the remains for the benefit of your skin.
While pumpkin may be the perfect fruit for your complexion and health, it may not be enough. Whether you're looking for a brighter glow or ways to get rid of wrinkles, contact us. At NJVVC we sell professional skincare products that will have you looking like a younger, happier you.
Editor's Note: This blog was originally published on January 30, 2019. It has been updated to include additional information.