Ah, Autumn. Also known as Pumpkin Spice season. Every year around this time, pumpkin-flavored everything makes its annual appearance. Pumpkin spice lattes, pumpkin pie, pumpkin soup, even pumpkin chili hits the shelves of stores and restaurants.  
While you are likely familiar with all of the ways to eat this versatile veggie, did you know pumpkin also greatly benefits the skin?  
It Starts with Super Ingredients
From the seeds to the flesh, pumpkins are loaded with nutrients that are helpful for the skin. Since pumpkin has a small molecular structure, it can penetrate deep into the skin. These nutrients do everything from hydrating to repairing damage from the inside out. Some of the beneficial enzymes and vitamins in pumpkin include:
Alpha hydroxy acids
Vitamin A
Vitamin C
Beta-carotene
Magnesium
Zinc
Vitamin E
Omega3 Fatty Acid
Awesome Anti-Aging Benefits
Pumpkins contain enzymes and alpha hydroxy acids that break down dead skin cells. By removing dead skin cells, normal cell regeneration speeds up. This has a smoothing and brightening effect, resulting in glowing skin.
Pumpkin enzymes are plentiful in antioxidant-rich vitamins A and C. These amazing ingredients refine and soothe the skin, reducing fine lines and wrinkles. 
A derivative of vitamin A, beta-carotene, boosts collagen production to help minimize wrinkles. Beta-carotene also helps to reverse UV damage and improve uneven skin pigmentation. So, if you have any dark spots or freckles, pumpkin is the superfood for you. 
Because of its high content of magnesium, zinc, and antioxidants, the pumpkin seed oil is especially useful in preventing the signs of aging. It promotes moisture retention and improves the skin's elasticity.  
Free radicals are skin-damaging molecules in our environment: light, smog, cigarette smoke, and fried foods – just to name a few. They speed up the aging process and may even be linked to cancer. 
The vitamin C and beta-carotene in pumpkin works to combat free radicals. Both nutrients reverse UV damage and counteract free radical effects on the skin. 
Using pumpkin to fight free radicals is easy. Make a simple pumpkin puree mask by spreading it onto your skin and allowing it to sit for 30 minutes.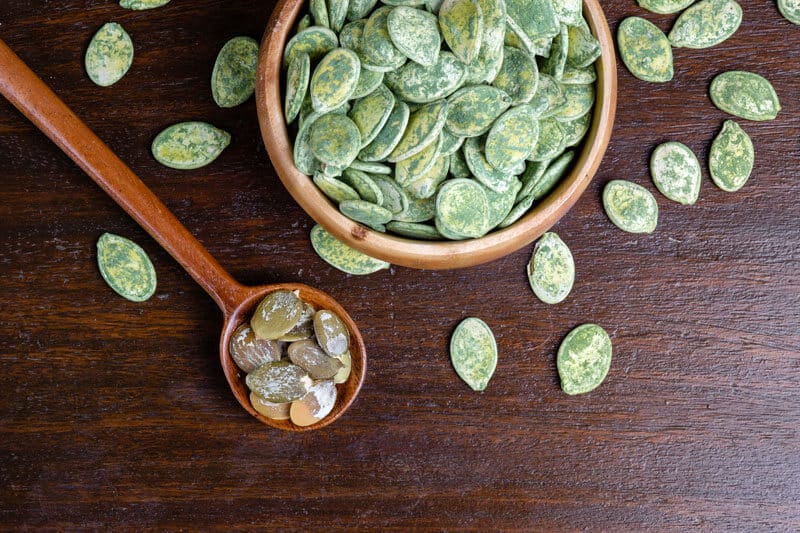 Pumpkins have powerful acne-fighting and oil regulating properties. Thanks to a potent combination of zinc, fatty acids, vitamins and minerals, you can ditch the zits. 
Along with potassium and magnesium, zinc regulates oil production in the skin. This removes those obnoxious, overly oily and dry areas. Zinc also works in tandem with vitamin E to fight acne breakouts and improve skin tone. At the same time, anti-inflammatory vitamin A minimizes acne scarring. 
Zinc, vitamin E, and omega 3- and 6- fatty acids are especially concentrated in pumpkin seeds. Simply eating these seeds is a great way to reap their many benefits. Roast pumpkin seeds at home (it's super easy!) and then enjoy them on their own or sprinkled into yogurt or trail mix. 
Pumpkins are much more than just recipe ingredients or decorations. They also have amazing skincare benefits. Reversing the signs of aging, fighting acne, and improving skin texture are just some of the powers pumpkins hold. This October, before tossing your jack-o-lantern, consider using the remains for the benefit of your skin.
While pumpkin may be the perfect fruit for your complexion and health, it may not be enough. Whether you're looking for a brighter glow or ways to get rid of wrinkles, contact us. At NJVVC we sell professional skincare products that will have you looking like a younger, happier you.