When it comes to acne, getting a pimple is just the tip of the iceberg. Luckily, there are a lot of ways to reduce or eliminate breakouts fast. Face washes, acne creams, and even medication can help. But for many, it's the acne aftermath of scars causes concern. And it's the reason why so many people are turning to chemical peels for acne scars.
Why Acne Scarring Occurs
When acne cysts are painfully inflamed and penetrate deeper skin layers, the risk for scarring increases. Scarring is a result of the healing response initiated by the immune system.
As acne nodules diminish, the immune system tells the body to produce more collagen. Collagen is a protein used to support skin firmness and overall health.
Too much or too little collagen determines the severity of acne scarring. For example, depressed or "caved-in" scars occur when there is not enough collagen to repair skin damage. Scars that appear raised above the surface of the skin indicate the release of too much collagen.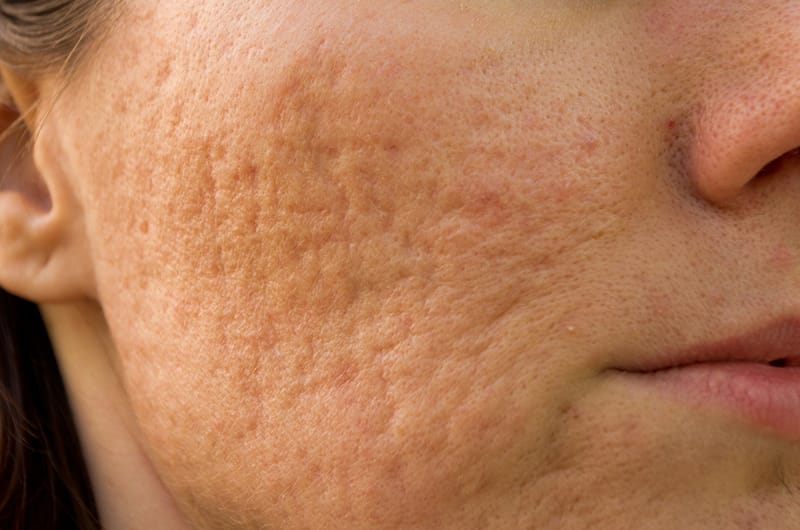 Raised acne scars are seen more frequently in people of color. Depressed acne scars predominantly affect lighter-skinned individuals.
Reducing the Appearance of ScarsOne of the most effective treatments to reduce the appearance of acne scars is a chemical peel. Chemical peels smooth away scar ridges and indentations. They safely and gently exfoliate the topmost layers of your skin.
What is a Chemical Peel?
Chemical peels use various concentrations of alpha-hydroxy, trichloroacetic, and/or glycolic acid. A licensed medical professional will apply the concentrate to areas with scarring. This helps eliminate damaged skin cells and speeds up regeneration. As the peel stimulates collagen production by causing a mild wound event, old skin cells are replaced by new, healthy skin cells.
Chemical peels take about an hour to complete. After a peel, you should expect some redness like a sunburn. Mild chemical peels may be performed every two or three weeks. Minimize itching by keeping your skin hydrated or using a cold compress.
Severe acne scarring may require a "deep" chemical peel. This type of peel may use phenol to penetrate deeper into the skin. Communicate openly with your doctor to achieve the best results.
In addition to reducing acne scars, chemical peels smooth away fine lines, mild skin discolorations, and treat actinic keratosis.
A Great Time to Get Rid of Acne Scars
There are a lot of misconceptions about chemical peels. For some, that means it gets put on the back burner of things to do. But the number one myth about chemical peels is that you will have to hide in your home for days after due to redness and flaking. That's not true! A chemical skin peel can be stress-free with very little downtime if any at all.
Chemical peels now consist of gentler but more effective solutions. Patients can even opt for a lunchtime peel that takes about 20 minutes. There is minimal redness, and you can resume normal activities directly following the procedure.
However, keep in mind that chemical peels formulated to reach deeper skin layers may cause more apparent redness and flaking.
Acne scars can easily be reduced or eliminated with safe and effective chemical peels. Call us today to schedule a free consultation appointment.
FALL CHEMICAL PEEL BONUS
Fall welcomes cooler temperatures and brisk breezes that bring a healthy, attractive glow to your cheeks. It's also the time to wear cute, soft sweaters, leggings, and free-form hairstyles. While you sip your pumpkin spice, consider the following:
Chemicals peels rejuvenate your skin leaving your skin fresh and glowing. No more spending hours in the morning applying concealers, foundation, and powder. Just shower, get dressed, and be ready to greet the day.
The days are getting shorter and there is less sun. UV rays aren't nearly as strong as they are during summer. You'll still need to use sunscreen after your procedure, but you can go outside with less caution during fall versus summer.
The holiday season is upon us. Every year it sneaks right up. A chemical peel is a great way to get ready for the busy times during the season when makeup isn't an option. For the gatherings you attend and everything between, a chemical peel can help revitalize your skin.
Get the look you want with a chemical peel this fall season at the NJVVC!